Cameron was established as the permanent county seat of Milam County by the First State Legislature in May 1846. The town was named for Captain Ewen Cameron, a Scot Highlander prominent in the Texas Revolution and a member of the Mier Expedition during the war with Mexico. The town of Cameron was small village before Sam Houston liberated Texas in the Battle of San Jacinto. In 1881, the Gulf, Colorado and Santa Fe Railroad constructed a line through Cameron connecting the Gulf Coast with Fort Worth. Another railroad, the San Antonio and Aransas Pass was completed in 1890 increasing the population and adding impetus to the agricultural economy of Cameron and the surrounding territory.
A small town in the rich agricultural area of Milam County, Cameron was settled by diverse groups of pioneers in the 1840's. It is not unusual to hear Czech, German and Spanish—mingled with distinctive Texas drawls—still being spoken by some of Cameron residents.
Milam County, named for Texas patriot and independence fighter Ben Milam whose statue is on the courthouse grounds in historic downtown Cameron, was created in 1836 as one of the original 23 counties of Texas. The first settlers in Milam County were primarily from Kentucky, Tennessee and Louisiana, coming to the county in 1834.
Come explore Cameron's area historical markers or take a historical walking tour of downtown Cameron.
You might also want to let your fingers to the walking through history at http://www.milamcounty.net/page/milam.histcomm
Link to Milam County – It's Evolution and Leaders, by Dr. Curtis Chubb.
Magnolia House
A is a fully restored Victorian house, which was the home of prominent citizens in Cameron for over a century. Built in 1895, it has won the Great American Home Award from the National Trust for Historic Preservation. The Texas Historical Commission has called it "the finest home of its size and type in the country."
The Bridges of Milam County
Some of the county's 100-plus steel bridges from 1900 era are still in use today. Brushy Creek Bridge once spanned Bushy Creek south of Thorndale, was moved to Cameron's Wilson-Ledbetter Park. A bridge over Little River by Sugar Loaf Mountain is still in use.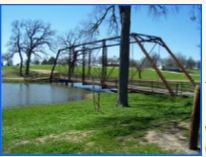 Cemeteries
Milam County has a vary active local Historical Commission.  One of their projects for the past few years has been to locate all cemeteries within the county.  There are many on private land that have not been documented and the commissions goal is to locate all grave sites and GPS the interred location for family research and adding them to Find a Grave.  Holly Bonorden-Jentsch, and John Brooks have been leaders in this endeavor. Please feel free to reach out to them on MC Texas Cemeteries Facebook page...https://www.facebook.com/MilamCountyTexasCemeteries     or on their MCHC Facebook  https://www.facebook.com/MilamCountyHistoricalCommission. 
City in Miniature https://www.mcrm-otc.org/ "Old Town Cameron"
Cameron resident John Johnson created a fascinating model of Cameron & Railroad Depot's,  that recalls the town as it looked during the 1940s. Jamie Larson, Director of Old Town Cameron and Railroad Museum has since added other historical layouts of buildings, train depots and switch stations. The museum is moving to a new home in 2023 at 110 West 1st Street, next to the Milam County Historical Museum.  We hope to see it up and running in June or July of 2023.  Visit the Facebook page for updates....  https://www.facebook.com/search/top?q=old%20town%20cameron
Local artists helped capture our heritage and preserve it on the walls of some of our downtown buildings. One with Judge Kemp's Cow that was brought to the square on occasions to graze the lawn.  Another depicts a group of Texas Rangers from Milam County. In 2022 some downtown renovations uncovered an old Cheeves Bros advertising since probably from the late 1890's and a Coca Cola mural as well.  These were remain and were preserved due to the efforts of owners, Mike and Kim McMahon and local artist Judith Moore Riola.
Milam County Historical Museum
The Milam County Historical Museum consists of two buildings.  One is housed in the restored county jail, c. 1895, complete with cells, shackles, and gallows tower, located at 201 E. Main. Exhibits include pioneer farm and ranch equipment, rustic household furnishings, Spartan "fashions" of the frontier, Indian artifacts, ranch and trail-driving tack, cowboy gear, and weapons. The other is located at 112 W.1st Street with many exhibits of life in Milam County, founders of the area, Indian arrowhead exhibit and historical pieces. There is also a small genealogy section, which is being updated.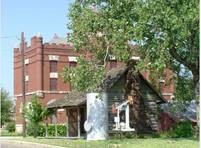 Wilson-Ledbetter Park
This park is one of 9 parks located in Cameron. Wilson-Ledbetter is a lush and beautiful 25-acre city park with picnic areas, hike & bike trails, site of historic Brushy Creek iron bridge, and home to many species of wildlife. Visits https://www.camerontexas.net/Facilities for information on the other parks and recreation.